MOTORIZED WINDOW TREATMENTS
Smart Shades + Expert Designers, delivering an effortless lifestyle experience.

Room scenes
Movie time room darkening? Check. Dinner party ambiance? Check. Remote control blinds make it easy.
Energy efficient
Orchestrate your motorized blinds to keep it cool in the summer and maximize heat in the winter.
Hassle-free routines
Wake up to sunlight and have your motorized shades close with the sunset for effortless privacy.
Security
No one has to know you're not home. Keep your smart shades moving when you're on-the-move.
Expert design. Seamless integration.
Motorized window treatments leave the days of tangled cords, hard to reach curtains and manually adjustable shades and blinds in the past, and can now be controlled with a remote, smart phone, tablet, home automation systems, and with voice commands.
Smart home?
We're compatible.
Smart Home automation is making its way into the spotlight as a convenient, comfortable, lifestyle solution that allows you to control a variety of different products in your home.Our motorized shades and blinds can integrate with all the leading home automation systems on the market.
SOMFY MOTORIZED WINDOW TREATMENTS
SOMFY MOTORIZED
WINDOW TREATMENTS
Over 150 Million Motors Sold
Somfy is the leading global manufacturer of strong, quiet motors with electronic and app controls for interior and exterior window coverings.  For more than four decades, Somfy engineers have designed products for both the commercial and residential markets to motorize window coverings such as interior shades, wood blinds, draperies, exterior solar screens and projection screens. Somfy motorization systems are easily integrated with home automation systems.
QUIET - STRONG - FLEXIBLE
Somfy now offers the quietest and strongest motor solution for window coverings with the Sonesse® ULTRA 50 in both AC & DC.
SONESSE® 30 WIREFREE RTS LI-ION
Designed for Silence and Simplicity
A wirefree motor with a built in, rechargeable lithium-ion battery offering a convenient and quiet motorized solution for roller/solar shades, Roman/woven shades, sheer shades and horizontal blinds.
ROLL UP 28 WIREFREE™ RTS LI-ION
Wireless comfort & efficiency
A built-in, rechargeable lithium-ion battery is a perfect choice for today's decorative shade collections on any budget.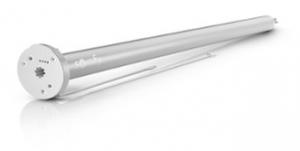 WireFree solution for draperies
Somfy introduces the new Irismo™ Range of drapery motors. Flexible power options, WireFree and Plug-and-play, provide simple solutions for new and retrofit installations.
An energy-efficient alternative to powering motorized window coverings
The new WireFree™ Solar Pack harnesses renewable solar energy to power WireFree™ motorized window coverings and offers a green alternative by reducing the replacement and disposal of standard batteries.
Situo
Control all motorized window treatments such as draperies, roller/Roman shades. Sporting a sleek modern look, it's sure to add a touch of elegance to any decor. Available in 1 & 5 channels.
Telis
Control all motorized window treatments such as motorized roller shades / motorized honeycomb shades. Available in 1 & 5 channels.
Telis 16
Control up to 16 motorized shades / groups of motorized shades.
Telis Modulis
Ideal for motorized horizontal blinds, sheer and layered shades.It features a scroll wheel to precisely adjust slat openness to control natural light. Available in 1 & 5 channels.
DecoFlex Wall Switch
The DecoFlex WireFree™ RTS is battery-powered and a completely wireless wall switch that provides an ideal way to control motorized products when entering or exiting a room. Available in 1 & 5 channels.
Sunis Sun Sensor
Allows for automatic operation of motorized interior window coverings according to the amount of sunlight in a room.
myLink
Control your motorized window coverings with a smartphone, tablet or voice.
Universal RTS Interface
The URTSI allows third party automation systems to control Radio Technology Somfy® (RTS) motorized solutions.
ROLLEASE ACEMDA MOTORIZED SHADES
ROLLEASE ACEMDA
MOTORIZED SHADES
Advanced Motorization Technology
Rollease Acmeda innovates, designs and manufactures window covering hardware, automated shades and machinery for use in both commercial and residential applications. Established in 1980, Rollease Acmeda has consistently been on the cutting edge of design, development and distribution within the industry.
AUTOMATE AC TUBULAR MOTORS
Automate AC powered motorized shades are a great choice for homes with large windows as well as large commercial projects. With lifting capacities up to 14' x 14' and run times up to 4 minutes, Automate AC powered shades are fit for projects of any size. 
AUTOMATE DC TUBULAR MOTORS
Automate DC powered motorized shades are an excellent choice when designing a new home, motorizing an entire existing home, or planning a small commercial project. DC wired shades are maintenance free and low voltage DC wiring keeps installation costs to a minimum. 
AUTOMATE WIREFREE TUBULAR MOTORS
Automate Li-ion battery-powered motorized shades are a perfect retro-fit for existing homes or small commercial projects. Li-ion powered motors require no electrical wiring, no external battery pack and no complicated installation.
Automate C offers a complete motorized curtain solution. Featuring soft-touch technology, Automate C automatically open or close your curtain with a gentle pull on the fabric to initiate movement.
SOLAR CHARGING POWER PANEL
An energy-efficient alternative to powering motorized shades & blinds
Use the sun to your advantage. Our Automate™ Li-ion wirefree range motors paired with our solar panel, means you can harness natural energy to control your shades, completely wirefree.Using a solar energy source means you can run your wirefree shades sustainably for years to come. Good for the environment, good for your wallet, good for you.
1 Channel Remote Control
Sporting a sleek modern look, it's sure to add a touch of elegance to any decor.
15 Channels Remote Control
Contemporary design with touch sensitive controls.
Wall Switches
Wireless wall switches. Available in 1, 2 & 15 channels.
Surface Mount Switch
Control up to 5 channels at the same time. Hand held or wall mounted.
Indoor Sun Sensor
Internal Sunlight Sensor can automatically close your shades to help control sun glare, protect your interior from UV damage and assist to keep your home cool.
Sun, Rain & Wind Sesnsor
Solar powered outdoor sensor. Perfect match for your motorized outdoor shades.
Automate Pulse
Use your smartphone, tablet or voice to operate your motorized window treatments.
Beautiful shades moving to your schedule
Just program PowerView to move your window treatments to the exact position you want and then control and schedule them using the intuitive PowerView App. You can also operate your PowerView shades using the PowerView Pebble® Control. Voice activate your PowerView shades with Amazon Alexa, Siri on your Apple devices, or the Google Assistant.
Pebble Remote Control
The Pebble Remote Control offers a modern alternative to a traditional remote control, allowing you to preset and easily operate up to six different groupings of motorized window treatments—individually or together—with just a press of a button.
Powerview Hub
Elegantly designed Hub connects wirelessly to your WiFi network. It's the central point of control for all your home's PowerView window treatments, storing your settings and activating your Scenes.
PowerView Repeater
Extends the signal range of the Hub to carry commands throughout your home. Added bonus: its soft glow provides customized illumination when plugged into any outlet.
PowerView App
The PowerView App unlocks the full potential of PowerView Motorization. Using the App, you can control your shades with a swipe of a finger. Or, create customized Scenes that move the shades to positions you set, and automate those Scenes to operate on their own throughout the day.
Schedule
Use the Automations feature to set your Scenes to operate independently, whether you are at home or away. You can even schedule Scenes to operate with the sunrise or sunset based on your location.
Compatible Systems
PowerView seamlessly integrates with other sophisticated whole-home automation systems.